As an athlete, if you're looking to make it to the highest level in whatever sport you compete in,  you have to be all in, and that means being a full time athlete.
It is very difficult to manage a day job and competing, which is why many athlete who are at a competitive level often quit or only reach that level. For me, in snowboarding, I was competing in World Cups, championships, and World Tour events against the best snowboarders in the World. 
How to be a full time athlete
The trouble is, some of these athletes are being paid a lot of money to attend these events and live life as a full time athlete, while others are trying to scrape everything they can together just to get to these same level of events. 
I know it's a similar feeling for athletes in many sports who need to travel far distances and spend all day training just to try to be competitive against the best, and to someday be the best. It's why although some athletes progress quickly to these higher ranks of competition, many may not actually make a career out of it as they end up dealing with the high stress of trying to make ends meet, and have to cut down their training time to get a job to pay for the expenses of their sports.
The struggle is real
Often as an up and coming athlete, you go straight from dominating local and national events, to fighting to come top 30 at these international event, where the major brand deals and sponsors seem to only have their eyes on say the top 5-10 athletes.
I have 4 main tips to becoming a full time athlete, aside from just being the best and winning events. These tips are important to get you the money you need to even get to that level, as well as for those at that level to make even more and build a larger platform.
Make your sport / training your lifestyle
When I first started competing in snowboarding, I made money by being a snowboard instructor. This way I could spend my entire day on the mountain and on my board, and would be paid for time, as well as get a free pass to train when I wasn't teaching. The same goes for whatever sport you are in. If you're competitive, and you have ways you can give back to your community, there is likely opportunities for you to do so, whether it's through coaching or training, putting on events, or working in the industry. If you work in the industry, you'll likely find that it's beneficial to your employer that you are competitive and inspiring their team and customers, so they'll likely work with you to arrange your work schedule around your training and competition schedule. Often when you work in the industry, it almost doesn't feel like work, as what you are doing for pay usually is some form of actual training time for your sport.
Create Content & Use Social Media
Simply put, sports are in the entertainment industry. If you want to build an audience and get sponsors who pay you, you need to be putting yourself out there through content and using social media. We all know the value of this, as we see influencers who built their fame purely through channels like Instagram getting paid thousands of dollars for their posts as they've built up an audience. As an athlete, you have so much to offer because people want to follow what you do, and brands want to be a part of that. Especially if you're authentic and stay true to yourself, it will make you stand out among a sea of perhaps fake influencers, not all are fake but you know what I mean, who don't have the credibility you do as a competitive athlete.
Monetize what you do everyday
If you have a specific skill that got you to where you are, you could definitely find a way to use it to help others in exchange for money. For me it was running strength and conditioning camps for ski and snowboard athletes during the offseason, which was also a way for me to train myself and get more fit. Total win-win!
Think beyond your sport
I was speaking to an athlete the other day who said although he is a professional in his sport, his sport is more fringe and doesn't have the same coverage of other sports so he wasn't sure how to go about sponsorships or if sponsors in his smaller sport would have any money to offer. It was really cool to see the mindset shift with my answer which was to look beyond your sport itself.
The way athletes of all levels separate themselves from others who are fighting for the same sponsors is to get more mainstream recognition. Your audience may be people within your sport, but your sport is not every waking hour of life. You can build an audience far beyond your sport simply by sharing your life as an elite athlete. What do you do everyday. What's your mindset like?
Athletes inspire others to live better, be healthier, and strive for greatness, whatever that is to the individual. Not only will an audience get behind this, but brands and sponsors will want to hop on board to someone who has that ability to connect with others beyond their sport itself.
Ready to go all in?
So if you're looking to be the best, actually make money doing what you love, and impact more people, you need to get creative when it comes to your work, social media, and sponsorships,. 
Are you ready to become a full time athlete?
Sign up to my emails below to get free resources as well as updates on a program coming soon to help you market yourself as an athlete.
If you need help with marketing yourself as an athlete, click here.
Trying to get your first sponsor? Click here for tips!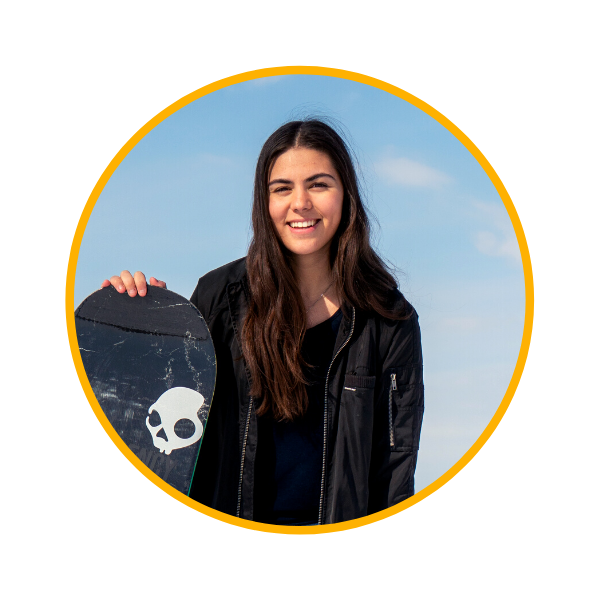 Natalie Allport is a former national team snowboarder, CrossFit athlete, and lifelong entrepreneur. She runs a digital marketing agency, 93 Agency, has over a decade of experience in social media marketing and personal branding, and hosts the podcast 'ALL IN', featuring entrepreneurship and lifestyle optimization content. Natalie has been featured by several notable media outlets, including the Globe and Mail, on her athletic, educational, and entrepreneurial pursuits.
Click here to follow Natalie on Instagram.