Athlete –> Entrepreneur
You may have seen my bio "Natalie Allport is a former national team snowboarder, athlete, and lifelong entrepreneur. She runs a digital marketing agency, 93 Agency, has over a decade of experience in social media marketing and personal branding, and is passionate about helping athletes and entrepreneurs build their brands and businesses in the same way she did. Natalie has been featured by several notable media outlets, including the Globe and Mail, on her athletic, educational, and entrepreneurial pursuits…" in my LinkedIn bio, or my podcast, but I'm going to get personal here, and tell you my story first-hand. Buckle in, it's been a wild ride…
Growing Up I Was A "Try Hard" (looking back, that's a good thing)
Growing up I was THAT girl on the play ground, competing with the boys, skateboarding to school, and playing every sport I could. You know the one. I was an extreme kid, full of energy and motivation, and as my parents like to say "had all the natural abilities, but just needs a bit of direction."
When you grow up as someone who always takes things to that next level, life can go one of two ways. I'm glad my life went this way.
I was barely 3 when I told my parents I wanted to go to the Olympics. Years later, when they tried to introduce to me the concept of having a back-up plan, I said I'd start a successful business, DUH!
"Good things come to those who WAI… ❌ work their a$$es off and never give up."
Whilst most sports came naturally, especially hockey, I found snowboarding at age 12. For some reason, this sport just didn't click as fast as the rest. Looking back, I understand how confused everyone was that I went all in on this new sport. Nevertheless, I fell in love with the challenge and finally found that one thing to direct all my energy towards.
Young "Hustler" & Entrepreneur Roots
During this same time, my parents started picking up on my interest in business and entrepreneurship. I was ALWAYS up to something. From lemonade stands, to selling gum at school (that my parents bought in bulk at Costco). It took them years to realize how they went through gum so quickly… hey, no cost of goods sold! 🤦🏻‍♀️
Again, needing a bit of direction, my dad guided my brother and I through our first business. We learnt the hard way about legit cost of goods sold , that if we didn't market the product, we didn't get any sales calls, and that business is far from glamorous. We made and sold thousands of dollars of homemade fitness products as pre-teens! Finally, something to replace the fact that our allowances started at 25 cents a month…and finally some $ to buy my first snowboard.
That first business got the wheels turning! From then on I spent most of my days filling notebooks with business ideas, pitching my parents using powerpoint and a projector, and mostly, learning how to handle rejection from my "Shark Tank" imitating parents. They're tough investors!
Elite Athlete. From Up and Comer, To World Tour
At 13 I entered my first snowboard contest. I won. There were 2 competitors.
Fair warning, when I tell stories I tend to jump around a bit (I'm about to right now – you've been warned). Ok, so I won a banner of Torah Bright (one of the all-time best female snowboarders) at that competition, and about 7 years later I'm dropping in at a World Cup and who's behind me getting ready to drop next… Torah FREAKING Bright. Ya. Full circle. Definitely texted my parents immediately after. NBD.
"Work until your idols become your rivals."
I began competing at events beyond the local level in 2010. I was so sure about this path, so all in, that I spent that Summer taking online courses while working full-time so that I could graduate high-school a semester early. Think you can guess what I did with that semester? Travel the world? Snowboard?
Nope… I worked. 5am-12pm at a gas station making breakfast sandwiches and serving coffee.
Remember when I said my allowance was like 25 cents? I didn't come from money. I didn't come from a family where things were given freely. If I wanted something, I had to earn it through putting in the work and doing whatever it takes. I think that may have been why I chose snowboarding in the first place. While I could excel on natural talent alone in school and most sports, snowboarding was a challenge, and I would only excel if I put in the work. I love a challenge.
Tell me I can't do something. I dare you.
I guess I'm a sucker for an underdog story, especially my own.
When Summer came, I had made enough to head out to Whistler and pay for 2 weeks at the world's best snowboard camp. I REALLY wanted to spend 3 weeks there, so my parents made me a deal, they'd help pay for the 3rd week if I agreed to start school in the Fall.
That Summer, my sport, Slopestyle snowboarding, was announced as an Olympic event for 2014 and man was I PUMPED! To my shock (there was no qualification process I was aware of in advance) I was named to the Canadian Junior National Team. ME. From Ottawa. No coach. No connections.
"A dream doesn't become reality through magic. It takes sweat, determination, and hard work."
The next 4 years were a whirlwind. There were amazing highs, competing on the World Cup circuit, travelling with the National team, and deep lows, failing to qualify for the 2014 Olympics (I watched one of my best friends compete from my couch with my arm in a sling), breaking my tailbone, ribs, ankle, wrist, heel…
In 2015 I made the tough decision to take a break. Cue Ross "WE WERE ON A BREAK" (any FRIENDS fans here?!)
I reached out to my coaches and told them I hadn't been feeling quite myself that past season, and I knew they had noticed. I felt that season I would make excuses, small injuries that I'd typically ride through kept me on the sidelines, and honestly, I felt scared and out of place. I had seen several friends have life threatening injuries, and I had begun to wonder how it would effect my future, family, and other passions if something like that were to happen to me. In snowboarding it's not a matter of if, but rather, when.
That year was tough. If you've read deep into the above, you can guess I'm a no excuse type of girl. That was the first sign that maybe I was being redirected to a different path. That's the thing with action sports. If you let the fear in, it's there now, and it's hard to get out of your head. Every time you drop you start thinking about "what if I catch my edge, then I crash, then I get injured, then I can't train, or work, or…worse…"
I was living the dream, the life my 13 year old self committed to building, but it just didn't feel right anymore.
I'll get into the whole business school and entrepreneur part shortly, but, my athletic career didn't necessarily stop there. The year I retired from snowboarding, I fell into a deep depression. I'd always struggled with anxiety, but this was totally different. I started having frequent panic attacks, and eventually was diagnosed and am so grateful I had the ability and support to seek help. That Summer was the darkest of my life, and I will never forget those that were there for me when I wasn't able to be there for myself.
I had 2 saving graces to getting me back to myself (aside from the help of others and my own self-work), one, an introspective solo trip to Bali, and two, CrossFit. I had started CrossFit a year prior as a way to train for snowboarding, and took to it quite quickly. Diving into CrossFit gave me an outlet and helped me through the transition. Eventually it became more than that, and I've now competed around the World at Sanctional events, competing against the fittest athletes on there planet. It seems there's no escaping competitive sports in my World, even when it's just for fun. (Competing is my fun, anyone else with me?!)
Entrepreneur & Marketing Agency Owner
Remember that kid who grew up hustling gum at school? She never grew up (apart from learning about true cost of goods sold, of course). As much as I was born to be an athlete, being an entrepreneur is in my blood.
I've had several businesses, some successes, and some learning lessons (I don't believe in failure, as long as the goal is to learn and grow, and you always keep trying, there is no "failure"). Being an entrepreneur is hard y'all. If you know, you know.
The business that's stuck, that was built from my ability to accomplish all the above, is the one that's brought me here, and you here, to reading this, my journey as an entrepreneur, athlete, and human.
Remember when I said I didn't come from money? I had to HUSTLE and get scrappy to pursue my athletic dreams. Apart from working odd jobs (I've done it all, from baseball umpire, to janitor at a car dealership), sponsorships helped me get into events, get free gear, and pay for expenses. I realized I had a unique skill, marketing myself. I reached out to brands on social media, and I worked really hard to build strong relationships with them. My marketing mindset made it a win win, as I understood what they were looking for, how I could uniquely provide value, and how to communicate my story to both build my audience, and convince them to take a chance on working with me.
In 2014, late into my snowboard career and midway through my education (did I mention I was in business school throughout my snowboard career – time management was a skill I've had a lot of experience working on), a local business whom I had reached out to years prior for sponsorship, took notice of how I was able to market myself, and asked me if I could do the same for their business. I jumped on this opportunity, and was able to work remotely, still pursue my athletic dreams, and build my business at the same time. As more businesses took notice of my work, and after I had retired from snowboarding, I decided to officially launch 93 Agency, a digital marketing agency focusing on helping small businesses and growing brands increase their impact through social media marketing & Facebook advertising.
I've been through it all in this business, learnt things the hard way, had major successes, and scaled it up through a value-first mentality, always going above and beyond for my clients, rather than the scale fast, high-churn mentality of digital agencies these days. We've niched down, focusing on paid advertising, and that's what brings me here, to what's next in my personal journey.
Athletes make amazing entrepreneurs. The work ethic, patience, and dedication you build as an athlete, translates extremely well to business and entrepreneurship.
Business & Marketing Expert
What do you get when you combine a decade of personal branding, social media marketing, and real-world experience across dozens of industries?! Me, coming full circle.
"Success is not measured in the amount of dollars you make, but the amount of lives you impact."
Simply put, I'm motivated to help more people achieve their dreams in the same way I have as both an athlete and entrepreneur. The messages I get when I help athletes get their first sponsor (I'm blessed to have helped several athletes, from up and comers to Olympic medalists), or the call from the entrepreneur who followed my free tips for the past few months and are seeing the fruits of their efforts within their business, that's what FIRES ME UP. Through my agency, I'm able to work 1-on-1 with a handful of businesses on their paid advertising strategies, and I love that, but I want to go beyond the scale of my agency alone. I'm increasing my impact, by increasing yours.
"It's not how big you are, it's how big you play."
I've believed this whole heartedly my entire life. Playing big got me, the determined girl with a dream and few resources, global brand sponsors. Playing big got me, the former snowboard athlete, a thriving marketing agency full of dream clients. Playing big got me, here, telling my story, and having people like you, read it. 🙏
It wasn't always that way. I would shy away when I was introduced as a "pro snowboarder". I would get shy away when people would tell me I should share my story. No longer. If my story can help 1 person, then it's worth telling.
No matter who you are, where you came from, or what you're pursuing, in sport or business, there's a story behind why you do what you do, and that story is your competitive advantage. YOU are your competitive advantage. YOU have the power to make an impact on others, and this World. And in this day and age, all it takes to start is opening up your laptop.
It's time to play big.
It's time to go ALL IN.
If you're an athlete or entrepreneur (current or future), you'll want to stay tuned for an exciting launch coming soon.
Sign up here —> natalieallport.com/emails
Let's connect!
Yours truly,
-Nat
PS. If you enjoyed this, please give it a share on Facebook, as well as screenshotting it and sharing your thoughts in your Instagram story (tag me @natalieallport) so I can repost it and connect with you!
PPS. Sign up for my emails below to get updates, free resources, and more!
---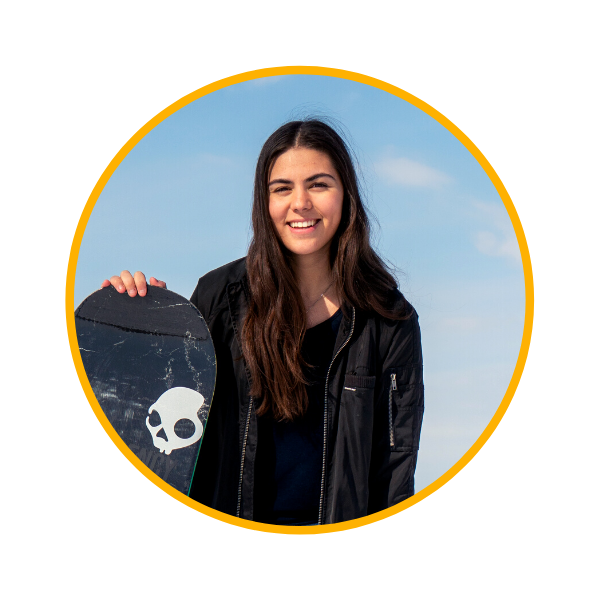 Natalie Allport is a former national team snowboarder, CrossFit athlete, and lifelong entrepreneur. She runs a digital marketing agency, 93 Agency, has over a decade of experience in social media marketing and personal branding, and hosts the podcast 'ALL IN', featuring entrepreneurship and lifestyle optimization content. Natalie has been featured by several notable media outlets, including the Globe and Mail, on her athletic, educational, and entrepreneurial pursuits.